Posts for tag: x-ray
By Forest Hills Dental
December 03, 2018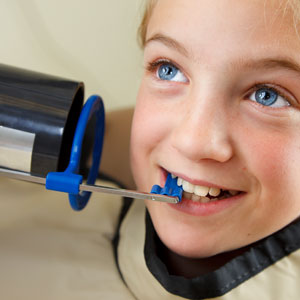 Modern dental care wouldn't be the same without x-rays. Since dentists began capturing x-ray images a century ago to detect beginning tooth decay, billions of teeth have been preserved.
"Catching it early" is the key to staying ahead of this aggressive bacterial infection. Once it breaks through the protective defenses of tooth enamel, it can advance toward the center of the tooth, the pulp, damaging dentin as it goes. While we can effectively stop it at this point with a root canal treatment, it's better for the tooth's long-term health to detect and treat any decay early on with a less-invasive filling or other treatment method.
X-ray imaging helps make that possible, revealing decay much easier than we can see with the unaided eye. And while we can often detect decay in front teeth by visual examination or by using very bright lighting, that's not as easy with the less accessible back teeth. For those teeth we use a special x-ray technique known as the bitewing.
The name comes from the small frame used to hold the film. It's held in place in the mouth by the patient biting down on small tabs or "wings" extending from the frame. The x-ray beam travels through the outer cheek and teeth to the film being held in the frame on the back side of the teeth. When exposed, we'll be able to view the interior of these back teeth: a set of four bitewings gives us a full view of all the upper and lower molars and pre-molars on each side of the jaws.
Like other forms of radiation energy, too much or too frequent exposures to x-rays can lead to serious health problems. But bitewing x-rays carry little risk to health. That's because they fit well with the ALARA principle, meaning "As Low As Reasonably Achievable," which helps guide our use of x-rays. Patients receive a fraction of the radiation exposure from routine bitewing x-rays than they receive annually from the natural environment.
Without bitewing x-rays and other diagnostic methods, the chances are high that tooth decay or other dental problems can go undetected in their early stages. Using this important tool can help us head off major damage before it occurs.
If you would like more information on the role of x-rays in dental care, please contact us or schedule an appointment for a consultation. You can also learn more about this topic by reading the Dear Doctor magazine article "Bitewing X-Rays: A Routine Part of Your Dental Exam."
By Forest Hills Dental
August 30, 2018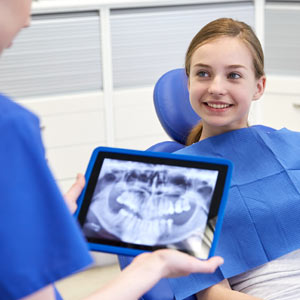 Your child's dental care wouldn't be the same without x-ray imaging. It's one of our best tools for finding and treating tooth decay.
But since x-rays emit radiation, is your child in any danger when they're exposed?
X-rays, an invisible form of electromagnetic energy, will form images on exposed film after passing through the body. Because it takes longer for x-rays to pass through dense tissue like teeth and bones, the corresponding areas appear lighter on the film than less dense tissue like the gums. We can detect decay because the diseased tooth structure is less dense and thus appears darker against healthier tooth structure.
The downside of x-rays, though, is the radiation they emit could potentially alter cell structure and increase the risk of future cancer, especially with children. That's why we follow a principle known as ALARA when using x-ray imaging. ALARA is an acronym for "as low as reasonably achievable," meaning the doses for an x-ray session will be as low as possible while still gaining the most benefit.
Advances in technology, particularly the development of digital processing, has helped reduce the amount of radiation exposure. We're also careful with what types of x-rays we use. The most common type is the bitewing, a device with the film attached to a long piece of plastic that the child holds in their mouth while biting down.
Depending on the number of our patient's teeth, we can usually get a comprehensive view with two to four bitewings.  A typical bitewing session exposes them to less radiation than what they're receiving from natural environmental background sources each day.
Keeping the exposure as low and as less frequent as possible greatly reduces health risks while still getting the full benefit of early decay detection. Still, if you have concerns about your child's x-ray exposure, we'll be happy to discuss our approach and all the precautions we take using x-ray imaging.
If you would like more information on x-ray diagnostics and your child, please contact us or schedule an appointment for a consultation. You can also learn more about this topic by reading the Dear Doctor magazine article "X-Ray Safety for Children."