Posts for tag: toothpaste
By Forest Hills Dental
October 30, 2017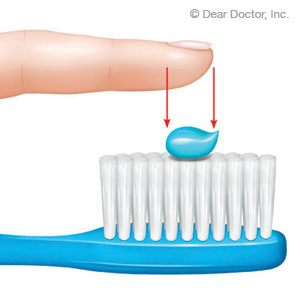 Since the 1950s fluoride has played an important role in the fight against tooth decay as an additive to hygiene products and many public water supplies. But although a proven cavity fighter, some have questioned its safety over the years.
To date, though, the only substantiated health risk from fluoride use is a condition known as enamel fluorosis, which occurs when too much fluoride is ingested during early tooth development as the mineral embeds in the tooth structure. Fluorosis can cause changes in the enamel's appearance, ranging from barely noticeable white streaking to darker visible staining and a pitted texture.
Fluorosis is primarily a cosmetic problem and not a serious health issue. The staining on otherwise sound teeth, however, is permanent and more severe cases may require extensive bleaching treatment to improve appearance. The best strategy is to prevent fluorosis by monitoring and limiting your child's fluoride intake, until about age 9.
Tooth decay is a more serious condition than fluorosis so we're not advocating you eliminate fluoride but that you keep your family's intake within safe levels. The first step is to determine just how much that intake is now, particularly if you drink fluoridated water. If you have public water, you may be able to find its fluoridation level online at apps.nccd.cdc.gov or call the utility directly.
You should also be careful about the amount of toothpaste your child uses to brush their teeth. Children under two need only a trace (a "smear") on the brush, and children between the ages of 2 and 6 a pea-sized amount. And, they should brush no more than twice a day.
Another possible concern is infant formula, especially mixable powder. While the formula itself doesn't contain fluoride, water mixed with it may. If you live in an area with increased fluorosis risk, consider breast-feeding (breast milk has little fluoride), using ready-to-feed formula, or mixing powdered formula with bottled water labeled "de-ionized," "purified," "demineralized" or "distilled."
We'll be glad to help assess your family's current fluoride intake and advise you on making adjustments to bring it into normal ranges. Taking in the right amount of fluoride assures you and your children receive the most benefit and protection from it, while avoiding future smile problems.
If you would like more information on managing your family's fluoride intake, please contact us today to schedule an appointment for a consultation. You can also learn more about this topic by reading the Dear Doctor magazine article "Tooth Development and Infant Formula."
By Forest Hills Dental
April 27, 2013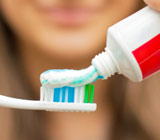 Since the time of the ancient Egyptians, people have used mixtures of various substances in pursuit of a single goal: cleaning their teeth effectively. Today, even with a glut of toothpaste tubes on the supermarket shelf, most people seem to have a particular favorite. But have you ever thought about what's in your toothpaste, and how it works? Here are five facts you might not know.
1) Most toothpastes have a very similar set of active ingredients.
Once upon a time, a toothpaste might have contained crushed bones and oyster shells, pumice, or bark. Now, thankfully, they're a little different: today's toothpaste ingredients generally include abrasives, detergents and fluoride compounds, as well as inert substances like preservatives and binders. Toothpastes formulated to address special needs, like sensitive teeth or tartar prevention, have additional active ingredients.
2) Abrasives make the mechanical action of brushing more effective
These substances help remove stains and surface deposits from teeth. But don't even think about breaking out the sandpaper! Modern toothpastes use far gentler cleaning and polishing agents, like hydrated silica or alumina, calcium carbonate or dicalcium phosphate. These compounds are specially formulated to be effective without damaging tooth enamel.
3) Detergents help break up and wash away stains
The most common detergent in toothpaste (which is also found in many shampoos) is sodium lauryl sulfate, a substance that can be derived from coconut or palm kernel oil. Like the abrasives used in toothpaste, these detergents are far milder than the ones you use in the washing machine. Yet they're effective at loosening the stains clinging to your teeth, which would otherwise be hard to dissolve.
4) Fluoride helps prevent tooth decay
This has been conclusively demonstrated since it was first introduced into toothpaste formulations in 1914. Fluoride — whether it's in the form of sodium fluoride, stannous fluoride or sodium monofluorophosphate (MFP) — helps strengthen tooth enamel and make it more resistant to acid attack, which precipitates tooth decay. In fact, it's arguably the most important ingredient, and no toothpaste can receive the American Dental Association's Seal of Approval without it.
5) Look for toothpaste with the ADA seal
This means that the particular brand of toothpaste has proven effective as a cleaning agent and a preventative against tooth decay. Plus, if the package says it has other benefits, then research has verified that it does what it says. Oh, and one other thing — toothpaste doesn't work if you don't use it — so don't forget to brush regularly!
If you have questions about toothpastes or oral hygiene, please contact us or schedule an appointment for a consultation. You can learn more in the Dear Doctor magazine article "Toothpaste — What's In It?"