Posts for tag: periodontal (gum) disease
By Forest Hills Dental
December 23, 2018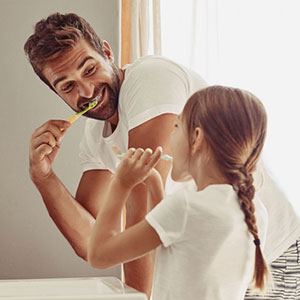 If you've ever heard your dentist or hygienist talk about "calculus," they're not referring to a higher branch of mathematics. The calculus on your teeth is something altogether different.
Calculus, also called tartar, is dental plaque that's become hardened or "calcified" on tooth surfaces. Plaque begins as soft food particles and bacteria that accumulate on the teeth, and more so if you don't properly clean your teeth every day. This built-up plaque becomes both home and food source for bacteria that can cause tooth decay or periodontal (gum) disease.
Because of this direct link between plaque and/or calculus and dental disease, we encourage everyone to perform two important oral hygiene tasks every day. The first is to floss between your teeth to remove plaque as you are unable to effectively reach those areas with a toothbrush.  Once you loosen all the plaque, the other really important task is a thorough brushing of all of the tooth surfaces to remove any plaque that may have accumulated since the last brushing. Doing so every day will catch most of the softer plaque before it becomes calcified.
Once it forms, calculus is impossible to remove by brushing and flossing alone. That's why you should have regular cleanings performed by a dental professional. Dentists and hygienists have special tools called scalers that allow them to manually remove plaque and calculus, as well as ultrasonic equipment that can vibrate it loose to be flushed away with water.
In fact, you should undergo dental cleanings at least twice a year (or as often as your dentist recommends) even if you religiously brush and floss daily. Calculus forms so easily that it's nearly inevitable you'll accumulate some even if you have an effective hygiene regimen. Your dental team can remove hardened deposits of calculus that may have gotten past your own hygiene efforts.
If you haven't been consistently practicing this kind of daily hygiene, see your dentist to get a fresh start. Not only will they be able to check for any emerging problems, they can clean your teeth of any plaque and calculus buildup so that you'll be able to start with a "clean" slate.
Calculus can be tenacious, but it not impossible to remove. Don't let it set you up for an unhealthy experience with your teeth and gums.
If you would like more information on reducing plaque buildup, please contact us or schedule an appointment for a consultation.
By Forest Hills Dental
March 10, 2012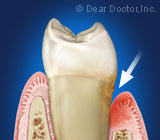 If you see blood when you brush or floss your teeth, it generally indicates a problem with your oral health. You may think you are brushing too hard, but this is not usually why gums bleed. The usual culprit is dental plaque.
Plaque is the sticky, whitish film of bacteria that forms on your teeth every day. If you brush regularly, you probably remove most of it — but some may remain behind and accumulate where your teeth meet your gums, particularly between your teeth. As the bacteria build up, along with by-products of their metabolism (the chemical reactions that maintain their lives), they cause inflammation, called gingivitis, in the adjacent gums.
Bleeding gums are an early symptom of gingivitis. Continuing contact with plaque at the gum line can cause your gum tissue to separate from nearby teeth, creating pockets in which the inflammation becomes even worse. The process leads to periodontal disease ("peri" – meaning around, "odont" – tooth). The increasing infection can eat away the bone that anchors the teeth, leading to possible tooth loss. Periodontal disease is not an uncommon problem. About 90% of the population has bleeding gums at some time or another, and approximately 10% go on to develop periodontal disease.
When you lose bone around your teeth, the gums separate from the tooth and "pockets" form between your teeth and gums. The inflammation and infection may continue within the pockets even if your gums have stopped bleeding when you brush. That's why it is important to have regular dental exams — to check up on and stop periodontal disease before it has a chance to cause serious damage.
There may also be other reasons for bleeding gums that have to do with your general state of health. Women who have elevated levels of hormones caused by birth control pills or pregnancy may experience an increased response to plaque that makes their gums bleed more easily. Increased bleeding in your gums can also be caused by some diseases or as a side effect of some medications.
The most important way to prevent bleeding gums is to learn proper brushing and flossing techniques so that you effectively remove plaque from your teeth on a daily basis. If you are not sure you are using the right techniques, make an appointment and have us demonstrate at your next dental visit.
With all the best intentions, some plaque may remain. Plaque that is allowed to stay on your teeth hardens into a substance called tartar or calculus. This must be removed periodically with a professional cleaning by me or by our hygienist.
With not too much effort, you can ensure that your teeth are clean and plaque free, and your healthy gums no longer bleed.
Contact us today to schedule an appointment to discuss your questions about bleeding gums. You can also learn more by reading the Dear Doctor magazine article "Bleeding Gums."
By Forest Hills Dental
October 02, 2011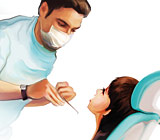 At some point in every person's life, they will experience bleeding gums or gingivitis, a mild inflammation of the gingiva (gums), which is the first stage of periodontal (gum) disease. For example, when was the last time you were brushing or flossing your teeth and noticed that your gums were bleeding or that when you spit and rinsed there was some blood? When this occurs, it is a sign that you have gum disease, as healthy gum tissues do not bleed. And no, it is highly unlikely that your bleeding is from brushing too hard. You would have to use extreme force to make healthy gum tissues bleed. However, this is exactly how most people discount or ignore this warning sign.
If this sounds like you or another member of your family, here's what you can expect when you see us for treatment. Depending on the severity of your periodontal disease, all of these treatment options may not be necessary.
Behavior change: We will collect a thorough medical history to obtain facts about your oral hygiene, eating and other personal habits such as alcohol and tobacco use to determine their impact on your periodontal disease. Proper brushing and flossing techniques are necessary for everyone, whether you have early or late stage gum disease; however, you must commit to a good daily oral health routine if you want to achieve success and thus keep you mouth and teeth healthy.
Calculus (tartar) removal: Cleaning is not just your responsibility. We'll clean and polish your teeth to remove calculus (tartar), the calcified deposits of bacterial products that become glued to the teeth and roots that you can't remove. In fact, routine visits to see us for a thorough cleaning will help ensure that all the unhealthy calculus (tartar) is removed from your teeth.
Evaluation: Usually after three or four weeks, we will want to see you to evaluate your progress and to see the response of your gingival tissues to the treatment thus far. And depending on the severity of your gum disease, we may need another follow-up exam to decide the best maintenance and monitoring regimen necessary to keep your mouth healthy.
Occlusal or Bite Therapy: This treatment, if necessary, usually occurs once your gum tissues have been stabilized and the inflammation and infection have been controlled. It is during this phase that we will address loose teeth or teeth that have shifted or drifted in position.
Surgical Therapy: For more severe cases of gum disease, you may need periodontal plastic surgery to repair and regenerate gum and bone tissue and their attachment to the teeth. It may also be necessary to replace missing teeth with dental implants.
If you are ready to talk to us about the current state of your mouth (or the mouth of another member of your family), contact us today to schedule an appointment. The first step towards achieving optimal oral health could start with this simple call. Or, you can learn more by reading, "Understanding Gum Disease."