Posts for tag: mouthguards
By Forest Hills Dental
June 26, 2019
Each year, the National Safety Council recognizes June as National Safety Month. It's the perfect time to focus on safety: With summer temperatures heating up, so do sports and outdoor activities—and, unfortunately, the risk of accidents. As the old Boy Scout motto goes, everyone should "be prepared." And while that means watching out for sunburn, poison ivy or traveling hazards, it also means being alert for potential tooth injuries.
Even during casual recreational sports, an unintentional hit to the face or jaw could chip, move or, worse yet, knock a tooth out completely. As with any other aspect of safety, prevention should be at the top of your list when it comes to dental injuries. In that regard, anyone involved in a contact sport or other high-risk activity should wear a mouthguard. This device absorbs much of the force generated during a hard impact to the face or jaw that might otherwise affect the teeth.
Mouthguards fall into two basic categories. The first are retail guards available at sporting goods stores and many pharmacies, most commonly "boil and bite" guards. They're so named because a wearer first softens them with very hot water and then bites down on them to personalize their fit. Once cooled, the mouthguard will maintain its shape. While reducing the severity of impact injuries, these retail mouthguards can be bulky and uncomfortable to wear.
The second category, a custom mouthguard created by a dentist, offers a sleeker, more comfortable fit. These guards are based on a direct impression of the wearer's mouth that we take at the dental office. Although any mouthguard is better than no mouthguard, a 2018 study confirmed that custom-made mouthguards from the dental office perform better than the kind bought in a drug store or sporting goods store.
Summer is prime time for creating cherished family memories. With a little dental injury prevention knowledge, you can help make sure those summer memories are happy ones. If you would like more information about dental injury prevention and treatment, please contact us or schedule an appointment for a consultation. To learn more, read the Dear Doctor magazine articles "Athletic Mouthguards" and "Dental Injuries: Field-Side Pocket Guide."
By Forest Hills Dental
May 15, 2013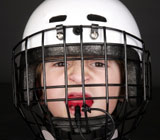 What is a mouthguard? A mouthguard or mouth protector is a protective appliance that covers the teeth and gums to prevent or reduce injury to the teeth, gums, jaws, and lips during sports or other activities prone to injuries.
Who should use a mouthguard? Children, adolescents or even adults who participate in contact or injury prone sports should use a mouthguard.
What do you mean by contact sports? Mouthguards are used most commonly in sports such as boxing, football, hockey and lacrosse. The American Dental Association recommends protection for 27 different sports, including basketball, soccer, water polo, rugby and more. The governing bodies of football, boxing, ice hockey, men's lacrosse and women's field hockey require mouth protection. It's a good idea to use a mouthguard during any activity that could result in a blow to the face or mouth.
What does the mouthguard protect against? A mouthguard protects against breaking or dislodging teeth or injuring jaws, gums, lips, or tongue, all injuries that can happen when you engage in contact or injury prone sports.
What are my choices for mouthguards? The best choice is a custom-made mouthguard fitted and made by a dentist. Stock mouthguards that are one size fits all can be bought off-the-shelf in stores, but there is no guarantee of fit or protection. A third type is a "boil and bite" guard, in which the guard material is heated and then shaped by biting down on the softened material. This offers some attempt at fitting that is better than off-the-shelf, but not as good as a mouthguard that is designed specifically for you.
Why is it better to get a mouthguard from our office than to buy one at a store? Studies have shown that store-bought stock or boil-and-bite mouthguards do not offer the same protection as a custom-made mouthguard. In our office we will make a mold of your mouth and design your mouthguard to fit your individual characteristics. It will be comfortable and easy to clean and will not restrict your speech or breathing. It will be made of resilient and tear-resistant materials, properly adapted for maximum protection, comfort and injury protection.
Wearing a properly fitted and properly used mouthguard prevents injuries to teeth, jaws, gums, lips, or tongue when you or your child participates in contact sports. Make an appointment with us to discuss your custom fitted mouthguard. To learn more read the Dear Doctor magazine article "Mouthguards."
By Forest Hills Dental
August 14, 2011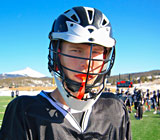 We have learned that an important part of oral health is education — but more importantly, making it fun to learn so that you retain (and apply) what you learn! For this reason, we have put together the following self-test so that you can quickly access your knowledge on the subject of mouthguards.
The first sport to use (and require) protective mouthguards was:

football
boxing
baseball
ice hockey

Research conducted by the American Dental Association (ADA) found that individuals are ___ times more likely to damage their teeth when not wearing a mouthguard while engaged in contact sports or rigorous physical exercise.

10
20
40
60

As a rule of thumb, females do not require mouthguards because they are not as physically active as their male counterparts.

True
False

The American Academy of General Dentistry (AAGD) reports that mouthguards prevent more than ______ injuries to the mouth and/or teeth each year.

200,000
300,000
400,000
500,000

Which of the following sports or activities does the ADA recommend that participants wear protective mouthguards:

acrobatics
bicycling
handball
all of the above

The US Centers for Disease Control (CDC) reports that more than ______ sports-related injuries end-up in the emergency room each year with injury or damage to the teeth and mouth.

275,000
425,000
600,000
735,000

Over-the-counter mouthguards are just as effective as professionally made mouthguards.

True
False

In addition to the trauma of having a tooth (or teeth) knocked out, individuals who have suffered from this type of injury may end up spending ______ per tooth over a lifetime for teeth that are not properly preserved and replanted according to the National Youth Sports Foundation for Safety.

$10,000 to $20,000
$15,000 to $25,000
$25,000 to $35,000
Less than $10,000
Answers: 1) b, 2) d, 3) b, 4) a, 5) d, 6) c, 7) b, 8) a
You can learn more about the importance of mouthguards when you continue reading the Dear Doctor magazine article "Athletic Mouthguards." And if you have already experienced a dental injury, it may not be too late. However, we need to evaluate the damage so that we can establish a plan for restoring optimal oral health. Contact us today to learn more about protecting your mouth and teeth or to schedule an appointment.