Posts for tag: dental hygienist
By Forest Hills Dental
August 15, 2014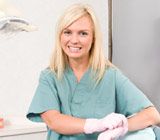 Keeping up your dental hygiene with daily brushing and flossing is essential to preventing disease and maintaining good oral health. But that doesn't mean it's all on your shoulders — the fact is, you have a strong partner in your dental hygienist. This valuable member of our staff provides a number of different functions that add a boost to your hygiene habits.
Perhaps the most important of those functions is semi-annual teeth cleanings. While daily brushing and flossing removes most of the bacterial plaque that causes dental disease and decay, harder deposits (tartar) will still form over time, especially in places your brush or floss can't reach. To remove it requires advanced skills and specially designed hand instruments or ultrasonic equipment. In the case of advancing gum disease, your hygienist may also assist with a procedure known as root planing to reach plaque and tartar adhering to tooth root surfaces below the gum line.
Dental hygienists are also on the lookout for abnormalities that may be a sign of disease. During teeth-cleaning sessions, your hygienist looks for gum inflammation or bleeding that may indicate the presence of periodontal gum disease, a progressive condition that, left untreated, could lead to tooth loss. We will be able to assess the extent of the disease by gently probing and measuring any detachment of the gum tissue that has formed voids known as pockets. They also look for signs of oral cancer — bumps, sores or areas of swelling or tenderness.
There's one other function your hygienist provides to enhance your oral health — educating and training you on dental care. They can provide you helpful information on risk factors for tooth decay or other dental diseases, along with helpful ways to reduce that risk. They can also help you improve your brushing and flossing techniques by demonstrating proper form.
Cleaning, monitoring and educating — these different "hats" your hygienist wears form a beneficial part of your overall dental care. Working together, you'll be able to keep your teeth and gums in good form and function.
If you would like more information on the benefits of a dental hygienist, please contact us or schedule an appointment for a consultation. You can also learn more about this topic by reading the Dear Doctor magazine article "Dental Hygiene Visit."
By Forest Hills Dental
October 09, 2011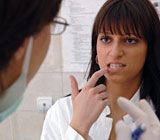 You just came in to have your teeth cleaned, but our hygienist is asking you about your general state of health and what medications you are taking. Meanwhile you are wondering why she doesn't just get on with the cleaning.
Dental hygienists are health care professionals who are trained and licensed to preserve your general as well as your oral health. That's why our hygienist begins your visit by asking you about your health history. Some health problems or medications may require special precautions during a dental cleaning. A hygienist also needs to know about your dietary history and other general health questions.
Our hygienist will examine the skin in and around your mouth for sores, lumps, and other areas that could be signs of oral cancer or other problems. She is trained to spot this disease and others.
Dental hygiene is individualized to your own situation. There is not a "one size fits all" solution. During your cleaning, our hygienist will also evaluate the health of your gums and teeth, checking for tooth decay and for inflammation (gingivitis) and bleeding. She will measure the space between your teeth and the surrounding gums, looking for pockets that form when the gums detach from the teeth. Such pockets indicate periodontal disease and can lead to serious problems.
After your health assessment and examination, the actual cleaning will begin. Your dental hygienist will remove deposits of plaque and calculus by using a technique called scaling. Plaque is a biofilm, a film of bacteria that builds up on your teeth. The reason you brush and floss every day is to remove this film from the surfaces of your teeth and gums and from between your teeth. Plaque that is not removed hardens into a mineralized substance called tartar or calculus, and this is what the hygienist removes by scaling.
The next step is a polish to remove surface stains from your teeth and to give your teeth the slick feeling that you identify as clean.
Finally, our hygienist will discuss your state of oral health with you and make suggestions for improvement. Most hygiene appointments take about 45 minutes to an hour. As you can see, during this appointment a lot must be done to preserve your oral health.
If you are in need of a dental cleaning, contact our office today to schedule an appointment. You can learn more about your visit to the hygienist by reading the Dear Doctor magazine article "Dental Hygiene Visit."