Posts for tag: bone grafting
By Forest Hills Dental
September 26, 2014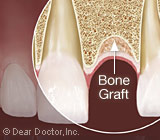 A dental implant can permanently restore the form and function of a missing natural tooth. But there's an important prerequisite for this smile-transforming therapy — you must have enough bone remaining at the implant site to securely anchor the implant and ensure proper crown placement for the most natural looking result.
Patients who don't meet this prerequisite may need to consider other restorative options. In some cases, however, we may be able to encourage sufficient bone growth to support an implantation through a technique called bone grafting.
Bone grafting involves opening the gum tissues at the intended implant site to expose the underlying bone. We then place the grafting material (usually a processed material) around the bone, sometimes with collagen membranes that serve as subterranean band-aids to guide bone growth. In most cases, the graft is actually a scaffold for the natural bone to grow upon; the natural bone will eventually replace the graft material. The procedure is normally performed with local anesthesia to minimize discomfort.
While bone grafting is a fairly routine procedure, it shouldn't be undertaken unless there's a firm prognosis it can successfully support a future implant. We must therefore determine if anything else in your oral health would disqualify you as an implant candidate, even if sufficient bone existed or not. We must also determine if there's enough remaining bone currently at the site to even attach a bone graft.
Once we're satisfied that bone grafting would be both possible and helpful, we must then consider what type of grafting material to use. If we're only replacing one tooth we may choose to use an autograft, bone material taken from another area of your own body. Although autografts have advantages because of their regeneration ability, it does involve creating another surgical site within the body. In most cases we may use processed materials, for example allografts, material that originates from another human being; xenografts, taken from another species of animal; or synthetic (man-made) materials. Regardless of the source, these materials are first processed to be safe for human use.
If successful, the regeneration process will result in enough new bone structure to make dental implants a reality. Your mouth will be healthier — and your resulting smile will be more beautiful than ever.
If you would like more information on bone grafting, please contact us or schedule an appointment for a consultation. You can also learn more about this topic by reading the Dear Doctor magazine article "Can Dentists Rebuild Bone?"
By Forest Hills Dental
January 24, 2013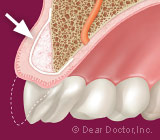 Dentists often recommend bone grafting to ensure the success of dental implants. And it is likewise common for people to squirm a bit at the thought. Bone graft? That sounds serious. And maybe a bit, well, unappealing. These feelings are completely understandable. After all, this may be something you've never had to consider before. But there's no reason to worry. Here's why:
Bone grafting is not new or experimental. It is actually a very routine part of the implant process, as well as other types of oral and periodontal surgery. And it is very successful when performed by an experienced doctor.
Bone grafting materials are processed for safety. The grafts used — whether synthetic or from a natural source, such as cow or human bone — have been specially treated for medical use.
Only a small amount of this bone-grafting material is needed. Once placed in the site of the missing tooth, it serves as a helpful scaffold your body uses to build more of its own bone in that spot.
Your implant will be more ideally positioned and may work better. It needs a good, strong foundation with which to fuse. But when teeth are lost, this supporting bone is often lost, too. This loss is often unpredictable and bone grafting limits the change that occurs. In fact that's one of the main benefits of replacing missing teeth with implants: they help prevent bone loss just as a natural tooth does.
Your implant will look so much better! Think about it: Your original tooth was supported to a certain height by the underlying bone. If that bone is now gone, the replacement tooth is going to be much longer because of the missing bone height. It may not look quite right without that additional support.
So if you want the best-looking and best-functioning implant possible, have no fear of bone grafting. And please contact us to discuss any of your concerns, or schedule an appointment for an implant consultation.
You can read more about this topic in the Dear Doctor magazine article "Can Dentists Rebuild Bone?"
By Forest Hills Dental
June 22, 2012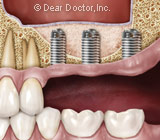 Of all the of amazing procedures in today's dentistry, surgery that causes new bone to grow — in places where it had previously been lost — is high on the list of the most extraordinary. (When bone is lost or resorbed, it is broken down into its mineral components, which are dissolved into the bloodstream. Resorption of tooth-supporting bone often takes place after teeth are lost.) Dental techniques that cause new bone growth are important because a certain amount of bone is needed to replace lost teeth with dental implants.
Today's dental implants themselves are an amazing innovation. Implants consist of a replacement for the tooth's root, usually made of a metal called titanium. A replacement for the crown, the part of the tooth that is visible above the gums, is attached to the titanium root. Titanium has the remarkable quality of being able to fuse with the bone in which it is anchored. This process, first discovered in the 1950s, is called osseointegration.
In the case of missing upper back teeth, many people who wanted dental implants in the past were told that they did not have enough bone to anchor the implants and that they had to get removable dentures instead.
But now a new surgery called maxillary sinus augmentation can cause your body to regenerate bone where it was lost and is needed to anchor dental implants.
Bone in the upper jaw or maxilla usually supports your upper back teeth. Inside the maxilla, on either side of your upper jaw, are air spaces in the bone, which are lined with a membrane. These spaces, called the maxillary sinuses, are generally shaped like pyramids; but their shape and size is different in each person. The new surgical procedures involve lifting up the sinus membrane in the area where bone is needed and filling the space thus created with a bone grafting material. Your body then creates new bone to fill the space. This usually takes about six months. If you have almost enough bone to stabilize the implants, they can be placed simultaneously with the graft, thus saving time and avoiding a second surgical procedure.
All grafting materials used today are approved by the Food and Drug Administration (FDA) and must be prepared according to their guidelines. They are specially treated to render them completely safe for human use.
After the surgery there is usually no more than mild to moderate swelling and some discomfort, about the same as having a tooth removed.
If you are missing upper back teeth, contact us to schedule an appointment to evaluate your upper jaw. You can also learn more about this procedure by reading the Dear Doctor magazine article "Sinus Surgery."