Posts for: April, 2018
By Forest Hills Dental
April 11, 2018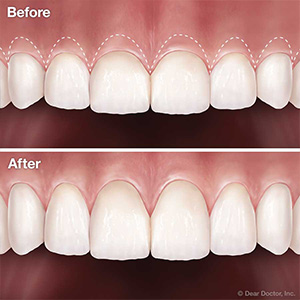 While we often associate tooth decay with cavities forming in a tooth's visible or biting surfaces, the occurrence of this all too common disease isn't limited to those areas. Cavities can develop in any part of a tooth exposed to bacteria.
Gum recession, the shrinking back of the gums from the teeth, can cause such exposure in areas normally covered by the gums. Because these areas are usually more vulnerable to infection when exposed, cavities can develop at or right below the gum line. Because of their location it can be difficult to fill them or perform other treatments.
One way to make it less difficult is to perform a crown lengthening procedure. While the term sounds like we're increasing the size of the tooth, we're actually surgically altering the gums to access more of the affected tooth surface for treatment. It's typically performed in a dental office with local anesthesia by a general dentist or a periodontist, a specialist in the gums.
During the procedure, the dentist starts by making small incisions in the gums to create a tissue "flap" that can be lifted out of the way. This exposes the underlying bone, which they then reshape to support the gum tissue once it's re-situated in its new position. The dentist then sutures the gums back in place. Once the gums heal, the decayed area is ready for treatment.
Crown lengthening is also useful for other situations besides treating cavities. If a tooth has broken off at the gum line, for example, there may not be enough remaining structure to support a crown. Crown lengthening can make more of the underlying tooth available for the crown to "grab" onto. It's also useful in some cases of "gummy smiles," in which too much of the gum tissue is visible in proportion to the tooth size.
Because crown lengthening often involves removing some of the bone and is thus irreversible, you should discuss this procedure with your dentist in depth beforehand. It could be, though, this minor procedure might make it easier to preserve your teeth and even make them look more attractive.
If you would like more information on crown lengthening, please contact us or schedule an appointment for a consultation.
By Forest Hills Dental
April 03, 2018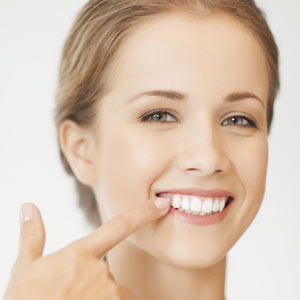 We readily understand the physical costs of a decayed tooth or infected gums — pain, discomfort and loss of function. It's much more difficult to understand the emotional and social costs of a lost smile. Without that understanding we may be tempted to view restorative solutions as a luxury we can't afford.
But there is a definite cost to a smile that embarrasses or makes you unhappy. It can inhibit your friendships and family relations and cause you to become withdrawn from others. Your career may suffer, especially if your vocation involves networking or similar social outreach where you no longer feel free to be outgoing. Most of all, though, your own feelings about your look can keep you from pursuing the things you love or that matter the most to you.
Viewed in that light, a "smile makeover," a comprehensive approach to transforming your appearance, is an investment in a better life, not a frivolity. Although the word "cosmetic" can mean "a superficial outer adornment," in the dental profession the meaning is much deeper. Dentists who specialize in smile design are focused on the overall effect of their work — not only with your mouth but with your whole face.
The process begins with a complete examination of your mouth to identify your particular dental needs. We also want to know about your expectations and desires for a better smile. We use that, along with the realities of your physical condition and other factors, to develop a treatment plan. The plan may be as singular as whitening procedures or porcelain veneers applied to the outside of your teeth — or it may be comprehensive with a variety of procedures that could include other specialties like orthodontics or oral surgery. The overall aim is to develop a plan that's right for you, and realistically satisfies your expectations.
The end result can be life-changing. Even subtle changes can alter your own image perceptions and free you to be yourself in your personal and professional relationships. In the end the positive impact of your new smile will more than offset the costs for achieving it.
If you would like more information on smile transformation, please contact us or schedule an appointment for a consultation. You can also learn more about this topic by reading the Dear Doctor magazine article "The Impact of a Smile Makeover."