Posts for: June, 2013
By Forest Hills Dental
June 26, 2013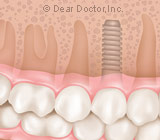 A dental implant as a permanent replacement for a missing tooth can match or even look better than your original tooth. How this happens takes knowledge, skill, experience, and even some art.
Here are some of the factors involved:
Bone quantity and quality: To look and function like an original tooth, an implant must be supported by an adequate base of (jaw) bone and gum tissue. Bone has a tendency to melt away or resorb after a tooth is lost. Using new bone grafting techniques can help minimize the bone loss that occurs during healing at the extraction site. Bone grafting can also be used to rebuild lost bone at the implant site.
Adequate bone supporting neighboring teeth: If you lose bone that supports teeth on either side of an implant, the papillae (the little pink triangles of gum tissue between the teeth) may not regenerate after the implant is placed.
Your inborn tissue type: If your gum tissues are thin and delicate rather than thick and robust, they will be more difficult to work with. To ensure that there is sufficient gum tissue support, (gum) grafting may be necessary.
Using the temporary crown as a template: A dental implant actually replaces a tooth root. Most dental implants are made of commercially pure titanium, which fuses with the bone in your jaw, making it very stable. The crown, the part of the tooth that is visible above the gum line, is attached to the implant; a customized temporary crown can be fitted to the implant. The temporary crown is a trial for the final crown. It can be used to assess color, shape, the appearance of your smile, and the implantâ??s function in your bite and speech. It gives you the opportunity to decide about design adjustments before the final, permanent crown is placed.
The skill, experience, and collaboration of your dental team: Each situation is different. The final success of your implant depends on your pre-surgical assessment and diagnosis, as well as how the surgical and restorative phases of treatment are performed. The use of an outstanding dental laboratory is vital to a successful result.
Contact us today to schedule an appointment for an assessment or to discuss your questions about dental implants. You can also learn more by reading the Dear Doctor magazine article "Matching Teeth & Implants."
By Forest Hills Dental
June 13, 2013
You've probably heard that thumb sucking can be harmful to your child's mouth, but do you know why?
Keep in mind that thumb sucking is completely normal in children up to a certain age. In fact, 95% of babies suck their thumb! This is because it provides them with a sense of security and a way to test and learn about their new world. The American Academy of Pediatric Dentistry recommends that parents and caregivers encourage children to cease this habit by age three.
Many children stop sucking thumbs by themselves between the ages of two and four. However, if you are having issues getting your child to stop after this point, you should inform us at your next appointment. Thumb sucking can actually block your child's front teeth from fully erupting and can also push the teeth forward. The number of hours per day and how much pressure your child applies will affect how far out of position the teeth end up. Excessive thumb sucking can also cause your child's jaw to develop incorrectly. This is why it is so important to stop sucking habits before permanent teeth start to erupt.
There are many creative ways that you can help your child cut back and eventually stop sucking his or her thumb. You might try to implement some behavioral management techniques, such as offering rewards after your child goes a length of time without thumb sucking. If your child is old enough to understand consequences, you can simply try explaining what will happen if he or she keeps up with this habit. If you continue to have trouble, speak with us at your next appointment and we can discuss other options, such as a mouth appliance that blocks this habit.
If you would like more information about thumb sucking, please contact us or schedule an appointment for a consultation. You can also learn more by reading the Dear Doctor magazine article "How Thumb Sucking Affects the Bite."