Posts for: May, 2013
By Forest Hills Dental
May 30, 2013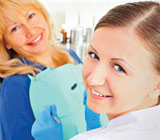 Once you receive your dental implants, you can have peace-of-mind in knowing that you have chosen a successful tooth replacement option, with long-term success rates of well over 95%. Your implant will look, feel and function just like the natural teeth that it has replaced.
However, despite the natural appearance, when you visit us for a regular cleaning, you may notice that we are using special instruments to clean around the implant. Cleaning around implants differs from the maintenance of your natural teeth for two reasons:
Your implants attach to the surrounding bone and gums in a very different way from your natural teeth.
The materials that comprise your implants are very different than those that make up your natural teeth.
Cleaning implants is just as important as cleaning natural teeth, because both depend on healthy surrounding tissues for support. Just as bacterial biofilm (plaque) collects on your natural teeth, it can also collect on your implant. That is why it is very important to brush and floss thoroughly on a daily basis at home. Without daily biofilm removal, the gums surrounding your implant can become infected, leading to bone loss and eventually loss of the implant.
Your regular dental cleanings will also play an important role in keeping dental implants infection-free, and we will select the right instruments for a professional cleaning. We will ensure that these instruments will not damage the crown, abutment, or the implant itself. If implants are scratched, they can attract and harbor bacteria. That's why the instruments we use, called scalers and curettes, are most often made of plastics and resins. Natural teeth don't scratch in the same way, and therefore metal instruments need to be used to clean them.
A number of power instruments have nylon or plastic sheaths or tips to minimize implant damage. They clean by using high-frequency vibration, which may be necessary if large quantities of debris have accumulated on your implant. We use these on a low power setting with a lot of water irrigation, and sometimes antibacterial solutions, to clean and flush material.
When it comes to keeping your implants infection-free, keep in mind that the most successful formula will be consistent oral hygiene at home mixed with regular dental cleanings.
If you would like more information about maintaining your dental implants, please contact us or schedule an appointment for a consultation. You can also learn more by reading the Dear Doctor magazine article "Dental Implant Maintenance."
By Forest Hills Dental
May 15, 2013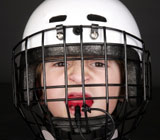 What is a mouthguard? A mouthguard or mouth protector is a protective appliance that covers the teeth and gums to prevent or reduce injury to the teeth, gums, jaws, and lips during sports or other activities prone to injuries.
Who should use a mouthguard? Children, adolescents or even adults who participate in contact or injury prone sports should use a mouthguard.
What do you mean by contact sports? Mouthguards are used most commonly in sports such as boxing, football, hockey and lacrosse. The American Dental Association recommends protection for 27 different sports, including basketball, soccer, water polo, rugby and more. The governing bodies of football, boxing, ice hockey, men's lacrosse and women's field hockey require mouth protection. It's a good idea to use a mouthguard during any activity that could result in a blow to the face or mouth.
What does the mouthguard protect against? A mouthguard protects against breaking or dislodging teeth or injuring jaws, gums, lips, or tongue, all injuries that can happen when you engage in contact or injury prone sports.
What are my choices for mouthguards? The best choice is a custom-made mouthguard fitted and made by a dentist. Stock mouthguards that are one size fits all can be bought off-the-shelf in stores, but there is no guarantee of fit or protection. A third type is a "boil and bite" guard, in which the guard material is heated and then shaped by biting down on the softened material. This offers some attempt at fitting that is better than off-the-shelf, but not as good as a mouthguard that is designed specifically for you.
Why is it better to get a mouthguard from our office than to buy one at a store? Studies have shown that store-bought stock or boil-and-bite mouthguards do not offer the same protection as a custom-made mouthguard. In our office we will make a mold of your mouth and design your mouthguard to fit your individual characteristics. It will be comfortable and easy to clean and will not restrict your speech or breathing. It will be made of resilient and tear-resistant materials, properly adapted for maximum protection, comfort and injury protection.
Wearing a properly fitted and properly used mouthguard prevents injuries to teeth, jaws, gums, lips, or tongue when you or your child participates in contact sports. Make an appointment with us to discuss your custom fitted mouthguard. To learn more read the Dear Doctor magazine article "Mouthguards."